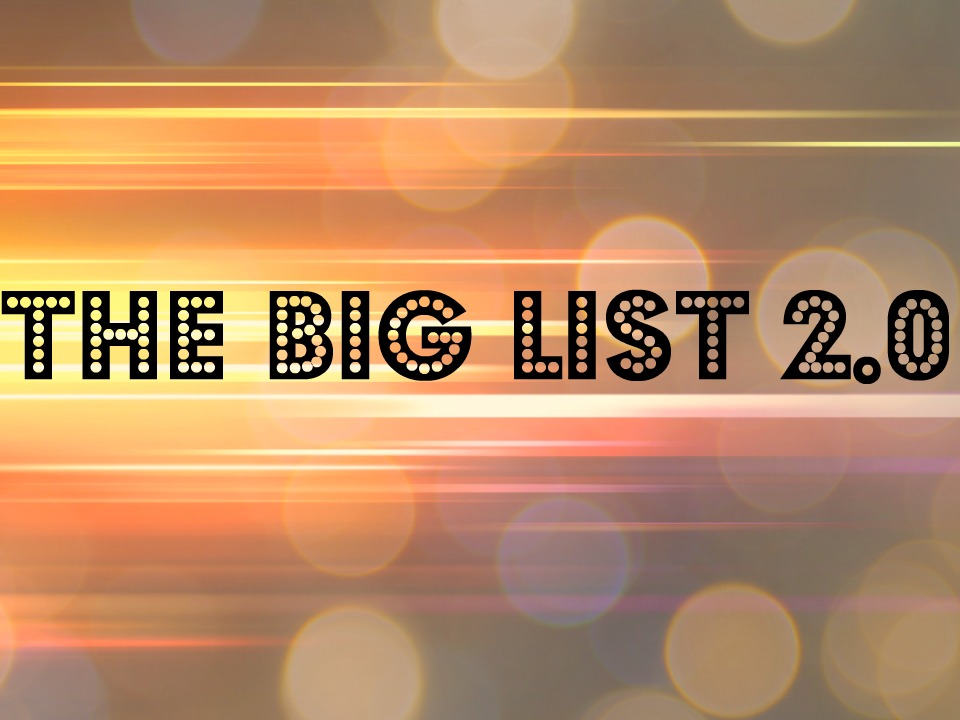 I am thrilled to share the most comprehensive directory of B2B online customer communities on the web and perhaps even the planet! We published our first Big List in 2011 and just finished an exhaustive period of research and review to bring you the following 106 dynamic communities.
From IT pros and CIOs to plumbers, baristas, and dentists. From frequent fliers to small business owners, you'll find them all and more, right here.
The Big List functions as a much deserved acknowledgment of B2B communities and their dedicated community managers, fierce executive champions and collaborative members. A lot has happened in the world of B2B online communities over the past three years. Some of the communities from the original Big List have grown exponentially in size and influence, numerous new ones have been formed and some have faltered; a number of those in our 2011 edition have since closed or become inactive. So, hats off to the shining stars –you have opened the door to enormous transformational opportunities for your organizations, and power to the new pioneers –may the force of operational alignment be with you!
The limited exposure of many B2B customer communities is why the Big List has become such a valuable resource –it generates conversation and insight into the diverse eco-systems of B2B communities and gives community professionals a chance to applaud the great work being done among B2B community builders. And, just for the record, when we say "online customer communities," we mean an interactive, often-gated website that a company sets up for customers to collaborate on topics of mutual interest.
We look forward to featuring some of the communities below in case studies, and further spotlighting intriguing and innovative communities!
Big List 2.0
The first 11 communities (green) are ones we chose to highlight due to their breadth, an innovative approach, or a unique feature for members.
The rest of the list is organized in alphabetical order, for a grand total of 106  126 as of 10/14 because we added more!
And, if we missed citing your community please take a moment to fill out our short B2B Customer Community Project questionnaire so that we can learn about your community and potentially include it in the future.
Be sure to subscribe to our blog and follow me on Twitter @vdimauro to receive information about updates to the Big List.
[TopCoder]: The [Topcoder] community brings coders together in one place to compete, collaborate and learn from one another. They use competition as a way to make members better practitioners. This community of over 678k designers, developers and data scientists has successfully harnessed the power of competition to build an engaged and visionary community space. Members can work so solve problems posted by big brands, collaborate to gain new skills and earn prize money for challenges they successfully complete.
Adobe Learning Communities: From user forums and groups, to their education exchange, and the Adobe Community Professionals Program, Adobe offers users multiple ways to connect and learn from each other. Adobe's community team ensures that members at every level of expertise can find a space to call their own and find the help they need to progress their talents.
The Barclaycard Travel Community allows members to share travel stories and insider experience. This community ties participation to points! Members can earn miles or Amazon e-certificates for connecting with like-minded travelers from all over the U.S. Members earn additional points by having their travel stories "kudoed" by other members. The site features a live interactive map of where members are traveling and links to their write-ups. The community blog features posts by seven seasoned travelers that offer their insights and tips.
cio.com Executive Council (gated) An online community for CIOs and IT leaders whose mission is to facilitate robust interactions among global leaders in order to bring measurable value to their organizations and to support their professional development. The Executive Council has succeeded in providing a safe-haven for IT executives and offers a highly personalized experience. Celebrating their 10 year anniversary in 2014 this community has proven its value and ability to iterate.
Cisco Learning Network The 800k members of the Learning Network can access IT training resources for all Cisco certifications, IT certification study tools, and CCNA practice tests. The Network also provides career development tools such as access to IT salaries, and job postings. Members can choose between free and premium membership options. Members have access to an expert community management team as well as subject matter experts that participate in the Learning Network groups.
HR.com is the largest online community (200,000+) for human resources professionals. It features articles, news, webcasts, events, white papers, and many discussion forums. HR.com offers members extraordinary options, with hundreds of groups and discussion topics, and access to resources for certifications and continuing education including e-learning credits. The site offers career resources, from connecting to industry experts to a large job database.
Oracle Communities Explore Oracle's well-known global communities, including OTN, OPN, and OracleUser Groups—as well as newer fast-growing communities all from this index. Communities and groups exist in multiple languages, including Korean, Chinese, Russian and Japanese. Regularly participating members can move through the Oracle recognition levels, from Newbie to Ace Director. Communities are well organized and contain multiple sub-spaces encouraging members to tailor-make their experience.
PoliceOne provides networking and discussion opportunities for law enforcement personnel worldwide. There are two sections of the PoliceOne Police Forums: Secure (Law Enforcement Only) and Public (Open to civilians and law enforcement). PoliceOne offers members access to relevant news, training information, and information and reviews on products and manufacturers. Their Secure Forum offers members a private space to discuss sensitive law enforcement topics and address law enforcement issues from across the country.
SERMO, is the world's largest social network for physicians and a global leader in healthcare data collection. SERMO enables physicians to collaborate clinically, discuss treatments, solve cases, network, and learn from one another. The 270k of licensed physicians on the site discuss treatments, procedures, drugs, and medical products. The community verifies members are physicians and then allows members to remain as anonymous as they like creating an atmosphere that encourages frank dialogue.
Spiceworks caters to IT pros and tech vendors. IT pros manage their networks while interacting directly with other IT pros and tech vendors to decide what to buy. IT pros trust the people, info and brands they meet in Spiceworks and find it more convenient than having to visit multiple media or vendor websites. Over 5 million members help each other tackle problems, compliance and legal requirements, share tools, reports, and reviews. IT pros get answers get answers from fellow IT pros. Vendors get 1:1 feedback and build relationships. Spiceworks launched in 2006 and now estimates that 1 in 3 of the globe's IT pros are part of their community.
Creative District is an online professional network for filmmakers and creative professionals to connect, collaborate, and share the resources they need to get more projects completed. Creative District helps creatives build their online professional network, showcase their experience through rich user profiles, and post projects in development to find collaborators during each phase. Members can do everything from locating a camera, hiring an editor, to finding their next gig. Their featured projects showcase how users are innovating through using Creative District to collaborate and create.
The Act! Community allows users to collaborate on new ideas, solve issues, and share experiences. The Act! community is provided as a service to its customers, prospective customers and partners to help them discuss Act! products, by exchanging ideas, tips, information and techniques related to those products.
Adobe's Behance Home to nearly 80 million images Behance helps members discover the latest work from top online portfolios by creative professionals across industries.
Spinsights provides Agilent NMR and MRI users with an interactive platform for informative discussions and a single location to easily find support materials.
Allnurses is a nursing community of 842,495 members. Members discuss all facets of nursing, including jobs, schools, NCLEX, and more.
The Altru community connects customers with their support team and each other.
American Express OPEN Forum is an advice-sharing platform where entrepreneurs can exchange advice to make smart decisions and succeed. Join conversations and keep up with the most current and relevant business insights and get to know a community of like-minded individuals.
The EngineerZone® support community enables customers to engage online with ADI experts and fellow engineers to find answers to complex and frequently asked technical product and application questions.
AOPA (Aircraft Owners and Pilot Association) Forums (gated) Advice from experts in air traffic control, aircraft maintenance and repair, to pilots. Members discuss all things related to flying general aviation.
Atlassian User Group Leader Community This community connects user group leaders who work together to troubleshoot, share content, and develop new tools to share back with their own user groups.
AuntMinnie's Digital Communities and Forums AuntMinnie provides highly focused content and collaborative opportunities for medical imaging professionals, (radiology).
Autodesk communities link developers, partners, and users in various industries, including 3D animation, civil engineering, and manufacturing.
Avnet Partner Community (gated community)The Partner Community provides direct access to their full array of business-building tools and solution-selling resources, from strategic planning and analysis to training, enablement, demand creation and sales support.
Bank Of America Small Business Community The Small Business Community was created to help small business owners access expert insight, connect to each other, and find insider tips and the industry knowledge that they need to see their businesses grow.
BaristaExchange is a community website for baristas, coffee enthusiasts, roasters, farmers and coffee shop owners world wide.
BestBuy Unboxed Best Buy provides a bilingual Community "Best Buy Unboxed" that integrates a forum, Twitter, blogs and videos to connect customers with other product users as well as their Blueshirt and Geek Squad Agents to create solutions together.
Biotechandmoney is a crowdsourced member's only community of senior level executives from the global biopharma industry. The global community provides an exclusive nexus between bioscience, investors, pharma, financiers, legal and professional advisors.
Brewers Association (gated) More than 2,000 US brewery members and 43,000 members of the American Homebrewers Association are joined by members of the allied trade, and beer distributors to connect in this online space.
Building.co.uk Building Network Building is a leader in the UK construction industry. Reaching 34,944* professionals every week, Building provides editorial, news, interviews, analysis and hard industry data for the construction industry.
Caterpillar Community This is an online forum where professionals who work with Caterpillar equipment and engines can exchange information, find answers, and get expert advice from their peers.
Cisco—Social@Cisco A community designed for IT professionals using or interested in using collaboration technologies within businesses.
Cognizant Connections (gated) is an exclusive online community for senior IT and business leaders at Cognizant client organizations. The community is built from the ground up to serve the networking, collaboration and informational needs of its members.
Cortera Community Like Yelp for business suppliers, at the Cortera community you can both check what others say about your customer or supplier, or tell the community about your payment experiences with any company.
Dell Idea Storm Community At the Dell Idea Storm Community over 21,000 ideas have been submitted, over 744,000 votes cast, and over 100,000 comments made. So far 548 ideas have been implemented.
Diversified Communications Integrative Practitioner Integrative Practitioner is an online resource for integrative healthcare practitioners and professionals, providing its users with access to the most up-to-date information in integrative health news, events, and resources.
The DocuSign Community is a peer-to-peer and direct support channel for people using DocuSign. It is where they collaborate with customers directly on how to improve and extend their product platform. The community was designed for DocuSign customers, partners and employees, but welcomes anyone with an interest in e-signature to participate in public areas.
Dodge by McGraw-Hill Construction Provides architects, suppliers, and contractors an online resource center for upcoming projects and projects that are out to bid. It supplies members with up to date construction projects and bidding opportunities locally, providing timely updates on construction leads.
Element14 is an online community specifically for engineers. Engineers connect, find resources, specifications and expert advice.
The EMC Community Network is a community (over 300,000 members) for customers, partners, EMC employees and technology professionals to discover and engage with technical peers around Hybrid-Cloud Computing, Big Data and Flash Technology products and solutions.
EMC—RSA Archer Community Where 11,000+ GRC clients, partners and subject-matter experts share ideas, vote for product enhancements and discuss trends that help guide the RSA Archer product roadmap.
Farran Media's DentalTown (public and gated) Dentaltown is an interactive healthcare community working to connect dentists to their peers, dental service providers and manufacturers.
Firehouse.com Daily-updated, in-depth and interactive news, information, forums and links for fire, rescue and EMS.
Flexera Software Community Provides support, documentation, forums, security notices, cases and downloads for Flexera Software products. for their 188,000 community members.
FlyerTalk is a community where over 563,336 frequent travelers around the world come to exchange knowledge.
FohBoh is an online professional community and social media company dedicated to the foodservice industry. Over 20,000 Members who are both operators and non-operators from 130 countries.
G2 Crowd Users compare the best business software and services based on user ratings and social data. Reviews for CRM, ERP, CAD, PDM, HR, and Marketing software are available.
Higher Logic Users Group (HUG) share knowledge related to community management and the management of the Higher Logic Connected Community (TM) Product Suite.
Hitachi Data Systems Community enables customers, prospects, partners and employees to openly collaborate to innovate with HDS solutions. It is designed to offer businesses a way to develop their information solutions with HDS executives in a secure and engaging environment. For a deeper dive on the HDS community visit this Leader Networks blog post: http://bit.ly/1xuesU8
Hitachi Data Systems Community Compass provides a one stop shop for clients to interact with client support, access their knowledge base, make product suggestions, and network with other product users. Members can engage with users of Radius, Connect, Retain, ApplyYourself, and other Hobsons products, and influence Hobsons product direction.
HP Enterprise Business Community In this HP community users can connect to get advice, join discussions, find solutions and network.
HP IT Experts Community In the Experts community IT practitioners showcase their knowledge, connect with peers and get access to advice, downloads, demos and discussions with fellow experts.
Hyland's OnBase Community (linked with TechQuest)The OnBase community provides opportunities for users to network, share points of view, and post questions in a community of OnBase experts. The OnBase Community site is the central location for all things OnBase. Members will find product, solution, and technical information,
IBM Communities The IBM Software community is for networking with IBM experts, customers, and Business Partners on topics of interest to the public.
IFT Connect is committed to the worldwide community of food science and technology. Bringing together professionals from across the globe to share insights and learn from other colleagues.
Informatica General communities and product focused communities link Informatica users to exchange ideas and receive support. The Developer Zone encourages and supports independent software vendors in developing applications for Intel hardware and software products. This support is provided for the key stages of the business life cycle from planning to development and in various forms: web sites, newsletters, developer conferences, trade media, and blogs.
Intuit Accountants Community for QuickBooks Practitioners and Accounting Professionals Connect and find answers to your accounting questions from experts and other accountants.
Intuit Intuit Communities Through this community members can access QuickBooks Support through FAQs, asking a question in the Community, or speaking with an agent.
Intuit Mint Community Users are able to find answers to their Mint questions, and get help from experienced users and employees.
Intuit Partner Platform The Intuit Partner Platform (IPP) is an open platform that enables developers to integrate with rich financial and transactional data through REST-based APIs.
KA Connect (Linkedin Group) An active group of knowledge management professionals in the architecture and engineering industries sharing best practices.
Kinaxis The Supply Chain Expert Community  Community for supply chain experts to connect and share best practices.
Lean In Circles for members to connect, access the most up-to-date Lean In materials — including Circle Kits, Expert Lectures and Discussion Guides.
LexBlog's Reach  empowers lawyers to increase their visibility and accelerate business relationships through the Internet. This private community was developed for LexBlog clients to improve their blogging skills, network with other legal bloggers, get technical help and help each other grow as bloggers.
LexisNexis Investigators Network (gated)is a secure online community for investigators, analysts and other law enforcement professionals. Access is available to licensed users of Accurint® for Law Enforcement and Accurint® LE Plus.
LexisNexis LexTalk allows you to follow the conversations and new activity of your friends, colleagues and industry thought leaders.
Lithium Community Promotes learning and connection among digital pioneers and social business experts, and provide the resources and knowledge to help members get the most out of the Lithium platform.
Martindale Connected  (We had this on our first list) Connected allows for users to access comprehensive expertise on a lawyer with real time updates to their profile. Members can keep on top of current trends and developments from leading industry experts.
Mathworks MatLab Central MATLAB Central is the home of File Exchange, MATLAB Answers, newsgroup access, Link Exchange, and Blogs for the MATLAB & Simulink user community.
Meredith Corporation's Agriculture.com is a farm management resource for agriculture news, information on markets and crops, weather in your area, ag talk and more.
MICE is an community dedicated to the meetings, incentives, conferences and exhibitions industry professionals.
Microsoft Microsoft Developers NetworkMSDN subscribers get software, services and support for all development and testing needs. They can read up on the latest news and happenings in one of the developer blogs.
At the Microsoft Microsoft Dynamics Community, members can interact with their peers and Microsoft Dynamics experts. They can get answers to questions by posting in forums, reading informative blog articles, and watching how-to videos.
The Motorola Launchpad Developer Community helps application developers enhance the development of enterprise mobility applications.
National Instruments Labview 200,000+ engineers and scientists connect, especially around test, measurement, and embedded systems for engineers and scientists.
Net Promoter More than 35,000 Net Promoter practitioners and experts use this community to connect, share ideas and experiences, and to ask and answer questions. They can also access case studies, white papers, webinars, and more.
NetApp Community Members can talk about NetApp products and solutions. Ask questions, exchange ideas, and get feedback from other Community members.
Newforma Support Community Newforma, a project information management (PIM) software company integrates people, projects and processes to transform building and infrastructure project delivery.
Oracle C Central Pooling the thinking of Oracle executives, third-party experts, analysts, partners, and other industry leaders who are influencing business now and in the future.
Palladium Group's Execution Premium Community, XPC® is a is a high-impact community of strategy and performance management practitioners. XPC members find business value through exclusive online networking, membership in groups, discussion forums, and access to resources in the solutions center.
SCROLL down on the right to see the entire list:
Special thanks to all who helped grow the Big List even bigger!  To those who participated this year and in the past, our many friends and influencers who shared the call for participation to their followers, and a special thanks to  Paul Gillin for brainstorming with us about the cream of the crop and to Mike Ellsworth for adding to the Big List and including it in his forthcoming book, Infinite Pipeline: v. 1.1.