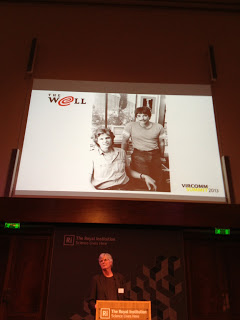 A month ago (February, 2013), I went to London to give a presentation at the 13th annual VIRCOMM Summit. On a cold and rainy morning (it was London, after all) about a thousand community builders and social media managers from around the world gathered to talk about the art and science of our complex profession — creating and managing online communities. It was a rare luxury to take part in a community conference and I am pleased to report that the event was well covered by the press and bloggers alike (#vircomm13 even trended on Twitter for a bit!)
Reading through the post-event writings, I was struck by the limited coverage of the opening keynote by John Coate, one of the leaders of the WELL. For me, this was a shining moment of the conference… a bit of online community building history that people – especially the new #CMGRs – need to know.
John's keynote offered a pictorial narrative of the history of the WELL.  Why it was started, who was involved and what it meant to those who were a part of the online community movement, now almost 30 years old. He shared a view of our collective history as community builders; where we have been and what the future may hold. Coate's presentation offered a view into the origins and growth of our profession, something of real value to the many 20-something attendees who were not part of this history. As virtual communities and online social interactions have become ubiquitous (at last!), it's essential that current practitioner know about this history and consider its lessons – where we've been and where we're headed.
For those not familiar with the WELL, it was the first substantial online community open to ordinary people. While there were online communities prior to the WELL, they were largely for academics and research. The technologies in use – then termed "Computer-Mediated Telecommunications"– were expensive, difficult to locate and access, and even more difficult to navigate. [Sidenote: Back in the day, many of us traveled with a screwdriver and a phone wire so we could disassemble a hotel phone and connect our dial-up modems to the lines!]
By and large, VIRCOMM conference attendees haven't had to deal with such inconveniences just to get email or access a chat group via a USENET group. Hurray for progress! But they also missed out on a time when online community was more focused on human-to-human connections. And, success was easier (more contextual) to report as we did not have to answer to the revenue gods – in fact the idea that community could be revenue generating wasn't even a concept then.
We have come a long way in terms of tools and opportunities for online community to do advance learning. For anyone who would like to see the kinds of things we were thinking about then, here is a snapshot of some of my academic research from the 1990s!!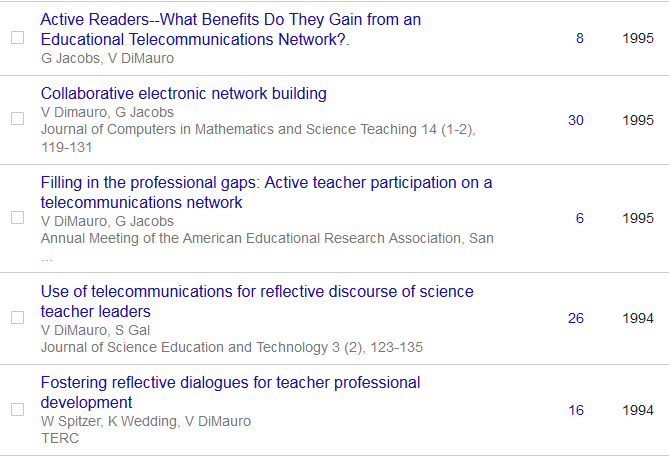 Times have changed and communities, advanced.  We live in a world where we can gain instant access to connections and information about everything from a specialist's point of view to travel suggestions to how to fix a fussy smartphone app. These changes are unarguably for the better.  However, there are core principles about online community that John Coate's presentation — indeed, his whole body of work — remind us are a fundamental part of whatever flavor of online community building we do. Starting in 1992, and revised twice since, Coate's wrote an essay called "InnKeeping  in CyberSpace" which still serves as an up-to-the-minute guide to online community best practices. In it, he identifies the Principles of CyberSpace InnKeeping:
The currency is human attention. Work with it. Discourage abuse of it.
You are in the relationship business.
Welcome newcomers. Help them find their place.
Show by example.
Strive to influence and persuade.
Have a big fuse. Never let the bottom drop out.
Use a light touch. Don't be authoritarian.
Affirm people. Encourage them to open up.
Expect ferment. Allow some tumbling.
 Don't give in to tyranny by individual or group.
 Leave room in the rules for judgment calls.
Encourage personal and professional overlap.
Think "tolerance."
These principles are still true today, 20+ years later.  It doesn't matter if your online community supports a brand, a professional community of practice, or even a gathering of fans.  Human-human connection is the centerpiece of all substantive online community interactions.  Without meaningful exchanges of information, there are no insights to be harvested; without sustained involvement and a sense of comfort, there is no customer retention or connection.  Without people connecting to people, there is no community – online or otherwise.